Training Funding Partners, along with the South Bay Workforce Investment Board (SBWIB) is proud to celebrate the expansion of the Aero-Flex Pre-Apprenticeship program!
This employer-centric, earn and learn model is intended to meet the workforce pipeline development needs common to aerospace and defense and advanced manufacturing employers.
Pre-Apprentices learn about exciting, well-paying advanced manufacturing career opportunities and connect with top employers while gaining valuable work experience and technical instruction in employer-designated and valued skills.
The first participants to pilot the program completed three training tracks:
Work Readiness – "Blueprint for Workplace Success" curriculum provided by the South Bay Workforce Investment Board
Technical Instruction – online classes from Tooling U-SME selected by Northrop Grumman
Work Experience/On-the-Job Training – through an internship with Northrop Grumman in El Segundo and Space Park, Redondo Beach
The pre-apprentices in this class intend to continue their education in both community and four-year colleges.
This program is now expanding across the Los Angeles Basin. If you are an employer looking to build your advanced manufacturing workforce pipeline contact – jkirby@tfpgroup.com or call 714.845.8048.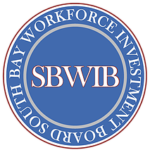 Links: